You can choose to go for a traditional or a modern wrist wedding corsage. Hopefully, after reading this article, you will feel more confident choosing the right flowers for your corsage. Here are some of the best choices for wedding corsages.
Traditional wedding corsage
Making your own traditional wedding corsage is simple, and there are many ways to do it. You can use either fake flowers or real flowers, but real ones tend to have a better scent. Roses and carnations are traditional flowers for corsages, but you can also add other flowers and greenery like leaves to make the bouquet more beautiful. When making your corsage, make sure that the wires don't all end at the same length, and that they are staggered rather than one long wire.
Corsages are usually given to the bridesmaids, but may also be given to the guestbook keeper or other family members. Also, they can be given to godmothers or close friends. If the bride and groom have male wedding participants, they will likely wear boutonnieres instead. Parents of the bride and groom will also wear corsages on their dresses. The bouquets are a symbol of love and friendship.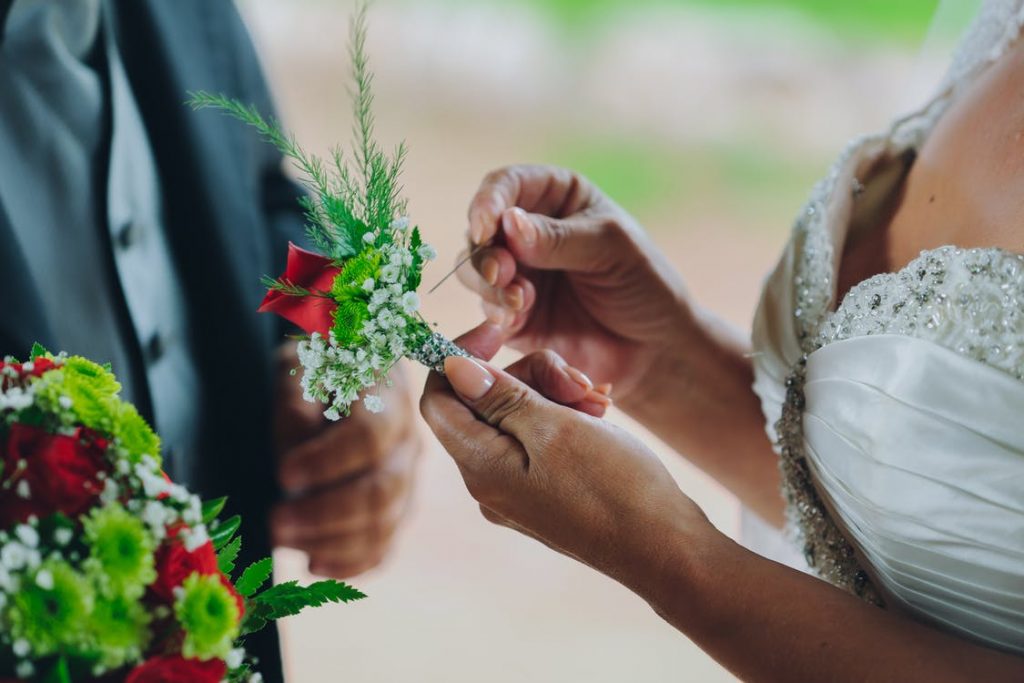 When choosing a flower for the bouquet, the bride's mother or the groom's mother is a traditional recipient. In most cases, corsages will be placed on the bride's left side. However, the style of corsages has changed with the times. Previously, they were attached directly to the bodice of the dress. Nowadays, they are usually held on a shoulder strap. And while they may seem like a silly tradition, many brides still opt for it.
Before the advent of wedding bouquets, flowers were worn by people who participated in the ceremony. Ancient Greeks believed that their scent would ward off evil spirits. The bride carried a bouquet of flowers, while other women at the ceremony pinned flowers to their clothing. In the early Middle Ages, corsages were often larger than the ones we see today. It's not clear what role corsages played in the ceremony, but their use as wedding decor has remained largely unchanged.
Modern wrist wedding corsage
Modern wrist corsages add a touch of class to the traditional wedding flower arrangement. Wrist corsages can be enhanced with crystals, beads, or other adornments. The corsage can be held in place with a ribbon or elastic band. Modern wrist corsages can be made of several different kinds of flowers and can be combined with other wedding flowers. However, if you're not sure what kind of corsage to choose, here are a few tips to make the perfect wrist bouquet.
One option for wrist corsages is a pearl handled pin or ribbon. The flowers are wrapped around the wristband and tied with a ribbon. This option keeps the corsage from looking too matronly or too old-fashioned. Also, the corsage can easily be removed after the wedding and reception are over. For added elegance, a corsage tied on the wristband can be paired with a pearl or crystal band.
When choosing a corsage, consider the type of wedding you're having. Wedding corsages can be expensive, so make sure you talk to your florist about the option that's right for you. Remember to consider the bride's budget when choosing a corsage. The bride's wedding bouquet is typically the biggest item in the reception. She will usually receive bouquets, but you can also opt for a modern wrist corsage for the reception.
The female officiant should also be offered a corsage, and you can choose between a wrist corsage or a pin corsage. The latter is preferable because of the way it prevents the wrist corsage from getting damaged. During the ceremony, the officiant might use her hands and a wrist corsage may interfere with her hands. However, it is still possible to give a corsage to a special loved one who is not a part of the wedding party. It will let her feel loved and special.
Meaning of flowers in corsage
When choosing flowers for your wedding corsage, you can choose any of the popular types to symbolize different meanings. Roses, for example, are the ultimate symbol of love, and represent passion and perfection. Different colors have different meanings, though; red roses signify love and passion, white roses represent innocence and purity, and yellow roses mean loss. Other popular choices include freesia, which has trumpet-shaped flowers and is named after a German physician.
Tulips are traditionally associated with spring weddings. They come in a variety of colours, including white, purple, pink, and orange. They are beautiful and represent undying love. Unfortunately, they are quite fragile and can break easily if used as part of a bouquet. Some flowers have a bad rap, so you should do your research before selecting your flowers. Hyacinths and lilies are both great choices for a wedding corsage, but different colours mean different things to different people.
Tradition
Corsages are a tradition that dates back thousands of years. Ancient Greeks wore corsages on their brides as a way to ward off evil spirits. The modern meaning of corsages is largely the same, and they are a symbol of your relationship to the person receiving them. Whether your corsage is made of silk or dried flowers, the recipient will appreciate it and remember you for giving it to them.
While carnations are beautiful, they are also not long-lived and don't retain their fragrance. In contrast, roses and carnations are popular in corsages, and they are both inexpensive and easy to make. Some brides use roses for their corsages, while others opt for white, pink, and yellow corsages. If you're looking for a traditional meaning for a flower, consider reading up on it before choosing your flower.
Flower choices
When it comes to choosing flowers for wedding corsages, you're probably wondering what would suit your wedding day. You'll want to match your corsage to your bridal bouquet, if possible. Consider a corsage in a bold color to complement your wedding dress. You can also choose a winter-white flower combination, like those used in the Petals and Twigs corsage. Whatever flowers you choose, make sure they stand out against an over-the-top backdrop or a luxurious bridal bouquet.
Orchids are a modern, elegant choice. They can come in shades of pink, blue, and even black. If you're opting for a neutral colour palette, you can use leucocoryne, a flower that ranges from white to deep purple. Orchids also look elegant placed on a napkin, and roses always work well with any genre. They also tend to have a faint scent.
Lillies
Calla lilies make a statement in floral arrangements and bridal bouquets. Their trumpet-like shape makes them ideal for long stemmed bouquets. Orchids also smell divine! For a more romantic look, consider hydrangeas, lilacs, and dendrobium orchids. Lilac is also an attractive choice for purple-loving couples. Another option is the andromeda. Both are similar to hydrangeas and have a black center.
After choosing the colors and styles of your corsages, you can move onto selecting the right flower arrangement. Consider choosing a wedding flower arrangement that matches your theme. While it's common to choose white calla lilies as the main burst, you could also opt for a more vibrant hue such as pink ranunculus. If you're unsure of which flowers to choose, a floral designer can recommend the perfect bouquet for you.
Handbag Corsages
A handbag corsage can be made for a wedding, and is an excellent alternative to a buttonhole or wrist corsage. This floral decoration is incredibly easy to make. All you need is some flowers, wire, and glue. Use a variety of accents, such as a magnet or a pin, to complete the look. To make the handbag corsage look its best, use the same length stems for all the flowers.
A handbag corsage is a unique way to carry a bouquet of flowers for a formal occasion. A traditional corsage is a small bouquet of flowers, traditionally pinned to the wearer's clothing. But a handbag corsage can be carried by the wearer, allowing her hands to be free. And the bag gives her a secure place to keep the bouquet of flowers.
A handbag corsage is also a popular choice for brides looking for something a bit different for their special day. While a traditional buttonhole costs a couple of pounds, a handbag corsage will cost upwards of PS12 for a simple bloom. Whether you're wearing a handbag corsage for a formal event or simply to impress your guests, a handbag corsage can make a perfect accessory for your wedding.
If your bride is the leading lady in your wedding, a floral wrist corsage is the perfect accessory for her. This accessory comes in a variety of shapes, sizes, and styles. Contemporary wrist corsages often go beyond traditional white roses and include crystals, ultra-mini blooms, and even bracelet adornments. If your bride has a favorite flower, she'll definitely love the handbag corsage!