Selecting a wedding keepsake box is not as difficult as you might think. Choose one in a style that matches the overall theme of the wedding. For instance, a large chest will house a lot of mementos and photo albums, while a medium one will have just enough room for the wedding guest book. If you'd prefer a smaller one, you can choose a small chest that is the size of a large jewelry box. These boxes will still offer a lot of space and come with a removable tray that allows you to access the bottom of the box.
Customized keepsake boxes
If you're looking for a unique and personal gift for the newlyweds, consider personalized wedding keepsake boxes. These boxes will hold mementos, photographs, and other memorabilia from your big day. A variety of options are available, including a classic wooden box, an elegant glass-plated shadow box, or a combination of both. Engraving custom boxes with the bride and groom's initials and wedding date is also a great touch.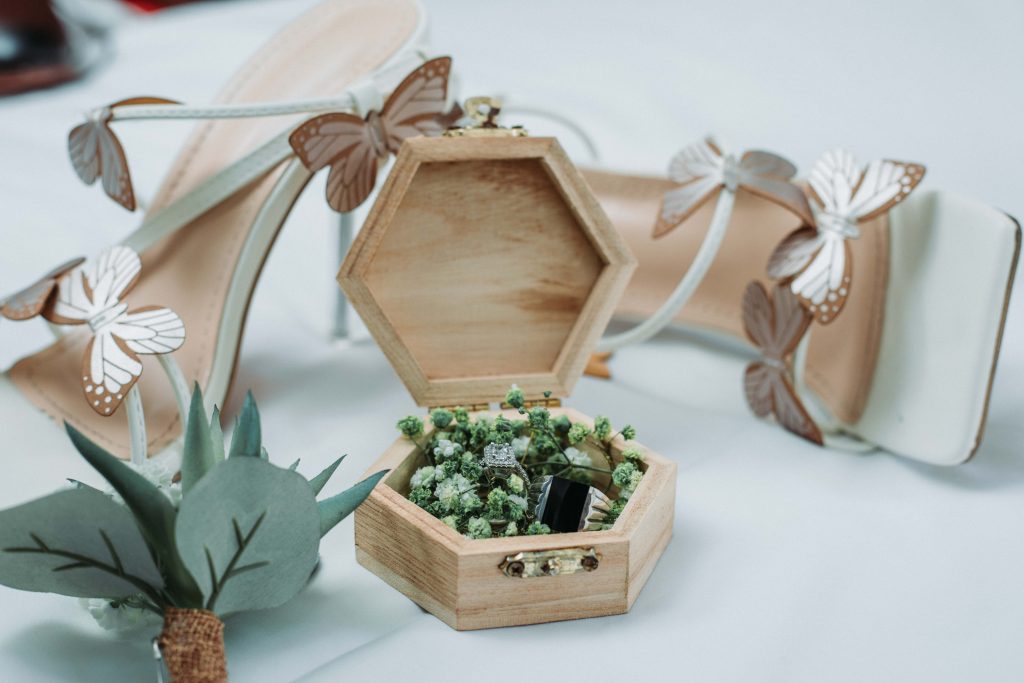 One particularly popular Etsy product is a white wooden slotted card box with a decorative lock which comes in three sizes. This keepsake box is customizable, with your names printed in gold or silver. The larger size can hold wedding photos, garters, and bowties. Personalized boxes are a perfect way to keep your precious keepsakes organized and safe. They can also double as a coffee table centrepiece, bedside nightstand, or living room décor.
Another unique option is a glass shadow box. This keepsake box comes with rose or gold edges, making it look like a three-dimensional picture frame for all of your wedding memorabilia. Custom engraving is an option for an additional $25. You can even match the font on your wedding invitation to the box's text. For a more modest, yet charming wedding, the Happily Ever After keepsake box is an ideal gift. Couples can purchase the box months before their wedding and fill it with mementos as the days draw closer.
A keepsake box is a perfect gift for any special occasion. These boxes are also ideal for keeping photos, memories, and mementos. They are the perfect way to preserve special memories and make them last for a lifetime. Not only is a keepsake box a special gift for your loved one, but a keepsake box is also a beautiful way to display important milestones in your life.
Organizing mementos in a keepsake box
Organizing mementos in tuxedo-style boxes is an elegant way to save your wedding day memories. Choose a box that is appropriate for the items you plan to store in it. Larger boxes can hold items like your wedding dress, shoes, or even pieces of decor. Use archival tissue paper to protect items from damage. Smaller items may be displayed in a shadow box or a frame.
A shadow box is a great option for storing small mementos. This unique storage box can be personalized with your wedding date, last name, or favorite quote. The two slots are a convenient way to organize the mementos. You can even order one that has a decorative lock for extra protection. One of the best keepsakes boxes is a glass-plated shadow box, which has two slots for storing flat wedding mementos.
Sentimental Gifts
Some people are too sentimental to choose everything they want to preserve. However, if you have a child, you may want to consider giving them a wedding keepsake box on their 18th or 21st birthdays, or on their first day out of the home. For children, it is a great way to tell a story. It is a good idea to choose items carefully, as the memory box will quickly become too big by the time they leave home. Ideally, your keepsake box will be small enough to be easily lifted, but big enough to hold all the mementos.
The boxes you create for your wedding day can contain any number of items. You can place dried flowers, a wedding cake topper, or a groom's bowtie. The box can also hold save-the-date cards and other wedding favours. You can also use a wedding keepsake box to collect items that were important to you and your partner. There are so many ways to organize mementos that you can customize it to suit your needs.
Whether your mementos are photos, cards, or gifts, the boxes can help you organize your treasures. For the most part, people keep keepsakes because they have sentimental value. For example, if you have a child, you can arrange them by year or occasion. You can keep your child's artwork, school certificates, and sculptures and much more in a child's memory box. Whenever you can, digitize these mementos before storing them in a box.
Keeping mementos in a guest book
Whether you plan on displaying the guest book in your home or giving it to guests, mementos from your wedding day can be treasured forever. Wedding scrapbooks are great keepsakes because they have mementos that are sentimental for you. For example, you may want to include ribbons from your gown or your bouquet. You might even want to include a garter or a bow tie from the bridal party. You can find wedding guest books in many styles and colours, and some even come with free gift-wrapping!
Choosing the right keepsake box for your guest book is important, especially if it's a keepsake box. Keeping the mementos in the guest book can help you see the wedding day from a different perspective. If you choose to keep your guest book in a box with a lid, it will provide you with a beautiful keepsake that you can enjoy for years to come.
Another good place to store mementos from your wedding is in a wedding keepsake box. These boxes are ideal for mementos of your big day. Whether you collect photos, tokens, cards, or vow books, a keepsake box can hold them all. If you plan on displaying your keepsake box in your home, make sure that it is in a location where you can easily access it.
If you're DIY-averse or too busy to create your own memory book, you can consider buying a semi-custom memory book. There are many pre-designed memory books on Etsy, and you can simply fill in the blanks yourself. You can also find fabric-covered monogrammed memory books that come with spaces to write about your wedding, guest lists, and family histories.
Choosing a keepsake box
Whether it's for the bride's dress or the groom's shoes, a wedding keepsake box is a perfect way to showcase special memories from the big day. Choose a box of the right size and design for the items you plan to store in it. Wedding keepsake boxes come in many styles, from classic wooden trinket boxes to elegant marble cases. After the wedding, the keepsake box can be displayed as a centerpiece on the table or even a bedside nightstand.
Traditional wedding keepsake boxes
A traditional wedding keepsake box can be crafted of pine wood and can be customized with the bride and groom's names. The lid can be left open or it can be locked with a key or swing lock. A few sellers even leave out the wine inserts so the box remains purely decorative. Other types of boxes include tree trunks engraved with the couple's initials, which symbolise enduring love.
If you're getting married overseas, wedding keepsake boxes are a great way to store your special memories. They make perfect wedding presents and serve as a memento of your special day. These boxes can hold anything from a single item to many, so you're bound to find the perfect box. You can even choose a box with a cover that is handcrafted with 100% cotton muslin.
In case you don't want to spend a lot of money on a wedding guest book, you can opt to use a gift box with an elegant lid. The lid of this box features a wreath of greenery around the word "Love," which will stand out against the cream backdrop. In addition, it eliminates the need for wrapping the gift box with tissue paper. A gift box lid is sufficient for securing the keepsake box.