If you're looking for a unique wedding venue in Northumberland, you've come to the right place. From fairy-tale castles like Lindisfarne to stunning 17th Century country houses, this county is brimming with wedding venues for every taste and style. Here are a few of our favourites:
Lindisfarne Castle is a fairy-tale castle
Located on a craggy plateau, Lindisfarne Castle is a magical, fairytale-like setting for a magical wedding day. Once a fort, it was later transformed by Sir Edwin Lutyens into a stunning Edwardian mansion. The castle overlooks Holy Island, which is cut off from the mainland twice a day. Guests can opt for intimate ceremony in the Ship Room, which can hold up to 30 guests.
The medieval castle was constructed on a volcanic plug known as Beblowe Crag, where the ancient church of Lindisfarne Priory once stood. The former monastery was disbanded by Henry VIII during the Dissolution of the Monasteries, but it continued to serve as a great source of robust stones. Estate agents often refer to this in property descriptions, and it's always true. The purpose of the castle was to protect North England from Scottish incursions, and its location on Holy Island was strategically vital.
If you're planning a romantic wedding in a quaint, historic town, Northumberland is an ideal choice. The stately Bamburgh Castle, which was once the seat of the Northumbria Kings, is still a spectacular centrepiece today. The 14 staterooms are decorated with artefacts dating back centuries. The Tuscan Marriage Chest is sure to be a hit with the royalists. As an added bonus, Northumberland is home to the World's First Dark Sky Park. If you're interested in the starry skies, you can visit Battlesteads Dark Sky Observatory and view thousands of stars.
Cuddystone Hall is a 17th Century country house
If you're looking for a romantic, unique, and gorgeous country house wedding venue in Northumberland, Cuddystone Hall may be just the place for you. Located in the heart of a 12000 acre wildlife sanctuary, this beautiful 17th Century country house has plenty of space for your big day.
A visit to Cuddystone Hall will allow you to enjoy the breathtaking views of the surrounding countryside. A wedding at this unique country house is sure to be one to remember. It is an intimate and unique venue that will allow you to customize your day. The owners of Cuddystone Hall, Catherine and her husband John, had their own wedding at Cuddystone Hall in 2007, and they are happy to provide recommendations for wedding suppliers.
Ellingham Hall is a National Trust property
Located on eight acres of countryside, Ellingham Hall is a gorgeous venue in Northumberland. The estate includes an elegant country house, seven luxury cottages and extensive gardens. The venue combines period charm and contemporary luxury, with features including high ceilings, underground games rooms and architectural periodic features. For the perfect backdrop for your wedding photographs, this Northumberland wedding venue is the perfect choice.
This historic National Trust property has many wedding options, including its charming Manor House venue. The venue is surrounded by 31 acres of landscaped gardens, ornate bridges, and an excellent selection of suppliers. The estate also offers a romantic, eighteenth century stately home, Charlton Hall. Both of these wedding venues are located in the county of Northumberland.
With a spectacular backdrop of mountains, valleys, and wild Cheviot goats, Ellingham Hall is a perfect wedding venue. It's wedding reception rooms can accommodate up to sixty people, and can include a ceremony and reception. The Hall has beautiful gardens and grounds, and can be transformed into a romantic event, including a reception.
Doxford Hall Hotel is a stunning 17th Century country house
If you're looking for a breathtaking 17th Century country house wedding venue in Northumerland, you've come to the right place. This Georgian mansion house has stunning, romantic rooms, and is licensed to hold both civil ceremonies and partnerships. Whatever your wedding style, the Doxford Hall Hotel will ensure that every detail is perfect.
Doxford Hall offers 2-day exclusive hire of its gorgeous country house for your big day. You can choose to marry in the Orangery, which seats up to 80 people, or have the reception in the Tepees, a unique space with its own unique character. The grounds are full of picturesque spots, including the enchanting Dunterley fell and the North Tyne River.
The Doxford Hall Hotel is a stunning country house wedding venue in Northumberland, set in four acres of beautiful grounds. The venue is available for exclusive hire, and is also located within a World Heritage Site. Located just outside Durham city, St Mary's College is the oldest college in the city, established in 1899 as a women's college.
Bamburgh Castle is a National Trust property
If you're considering having your wedding in the historic Bamburgh Castle, you're not alone! This spectacular National Trust property has been the site of films such as Time Team and Becket. The castle was once destroyed by Edward IV during the Wars of the Roses, but was restored by Lord Armstrong. Today, it is the ancestral home of the Armstrong family, and is the perfect place to tie the knot. You can enjoy a visit to the castle grounds and rooms, and celebrate your big day with your nearest and dearest at Bamburgh Castle.
For a truly unique wedding venue in the north east, consider Bamburgh Castle, which sits on nine acres and overlooks the coastline. Licensed to hold civil ceremonies and partnerships, Bamburgh Castle is an exceptional choice. The King's Hall, restored by Lord Armstrong in the 19th century, features an ornate ceiling and vaulted teak walls. In addition, there is plenty of space for a marquee on the grounds, if you'd prefer.
Besides the historic building itself, the castle also has excellent facilities for wedding photography. You can take advantage of the impressive views and romantic atmosphere of the castle from the upper battery. This is a great venue for an intimate wedding, as well as for a reception and it's staff will be more than happy to assist you with any wedding-planning needs. And, if you'd like to choose from several wedding venues in Northumberland, you can always contact the staff to find the perfect location for your big day.
Langley Castle is a fairy-tale castle
The enchanting setting of Langley Castle will transport you to a different world, where your dreams of a fairy-tale wedding can come true. This medieval fortified castle is a beautiful choice for a wedding venue in Northumberland, offering everything from small intimate ceremonies to lavish blowouts. The castle's interior design, complete with four-poster beds, is reminiscent of fairy-tale.
The Stuart Suite has neutral tones and huge wall-hung mirrors that cast beautiful reflections. The large mirrors allow you to decorate the room as you see fit, and are ideal for adding your own personal touches. Langley is also available for exclusive-use weddings, allowing the couple to have their perfect wedding day and celebration however this type of wedding is only available to locals.
If you're looking for wedding venues in Northumberland, Langley Castle is one of the most romantic settings in England. The castle is set in the picturesque county of Northumberland, with many scenic and historic sites nearby. In fact, the area is so full of natural beauty that it is the ideal wedding venue for families. The grounds at Langley Castle are picturesque, and the ruins of the castle are an incredible backdrop for a fairy-tale wedding.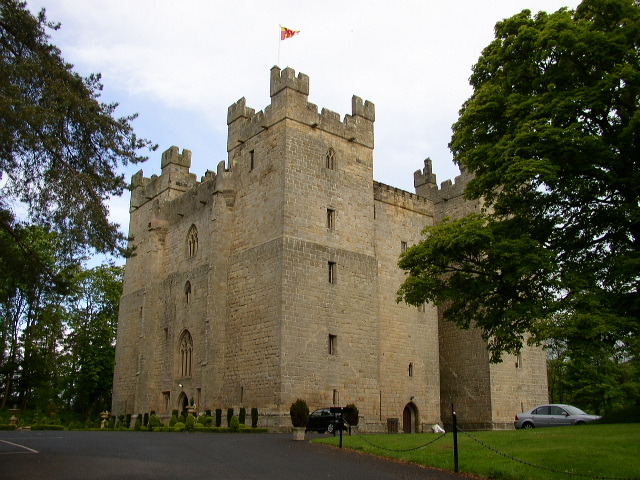 Brinkburn is a barn style wedding venue
In the idyllic county of Northumberland, you'll find a refined wedding venue, Brinkburn. The property includes a 12th century manor house and Grade II listed Stable Block, as well as private grounds, a wooded ravine, and the bank of the River Coquet. The venue's three separate event spaces are the perfect backdrop for an elegant, timeless ceremony. Its accessibility makes it perfect for those with disabilities.
As an exclusive-hire wedding venue, Brinkburn offers a professional planning team. They create intimate and personal events, while delivering a beautiful and stylish setting. The wedding team works with you to plan every detail, from catering to decoration and music, so you can enjoy your big day with the people you love most. You can also choose from religious or civil ceremonies and have both ceremonies in Brinkburn, as long as you're happy with both.
In addition to the wedding reception, Brinkburn also offers a stylish Tipi, which can accommodate up to 120 guests. In the evening, you can transform the White Room into a glamorous dance floor. You can even have your first dance in a tipi bar, complete with a fire pit. You can plan your entire wedding celebration and stay at Brinkburn for three days, a beautiful and romantic experience.